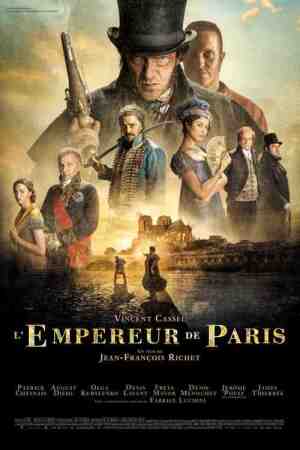 The Emperor of Paris
The Emperor of Paris
Under the reign of Napoleon, François Vidocq, the only man who escaped from the greatest penal colony of the country, is a legend of the low-Parisian fund. Left for dead after his last spectacular escape, the ex-penal colony prisoner tries to make him forget under the traits of a single trader.
Genres: Action, Adventure, Crime, History, Thriller
Actors: Olga Kurylenko, Michle Clment, Fabrice Luchini, Vincent Cassel, August Diehl, Freya Mavor, Patrick Chesnais, Denis Lavant, John Sehil, Antoine Basler, Nicolas de Lavergne, Nemo Schiffman, Philippe Beautier, William Sciortino, Jonathan Louis, Antoine Lelandais, Lucien Belves, Maxime Lefrancois, Denis Mnochet, James Thirre, Jrme Pouly, Herv Masquelier, Franois Girard, Jrme Cachon, Fayal Safi, Frdric Fix
Directors: JeanFranois Richet
Writers: ric Besnard
Countries: France
Release: 2018-12-19
N-13
Distribution countries:



Duration: 110 Min.
Quality: FHD
Language:

Subtitles:




6.3