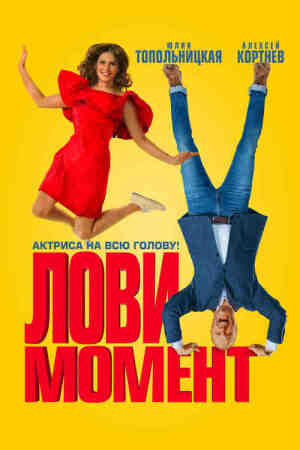 Seize The Moment
Seize The Moment
The main character is a cute ambitious girl Rita from a provincial town on the Black Sea coast. She decides to break out of the routine of doing local weddings and matinees and arrives to conquer the capital, trying to enroll in a drama school. She is waiting for a lot of difficult tests, which sometimes turn into very funny stories.
Genres: Comedy
Actors: Yuliya Topolnitskaya, Aleksey Vesyolkin, Valeriya Fedorovich, Yury Bykov, Mikhail Tarabukin, Yuliya Sules, Olga Kuzmina, Ingrid Olerinskaya, Valeriya Dergileva, Ekaterina Kabak, Natalya Ungard, Sergey Tereshchenko, Yanina Khachaturova, Elena Laskavaya, Andrey Kapustin, Anatoly Prosalov, Pyotr Romanov, Alexey Ushakov, Mikhail Mertsen, Aleksey Kortnev, Mikhail Kozyrev, Natalya Shchukina, Anna Telitsyna, Ivan Rudenko, Ilya Bortkov, Sergey Medvedev
Directors: Antonina Ruzhe
Writers: Vasiliy Rovenskiy
Countries: Russian Federation
Release: 2019-03-07
N-13
Distribution countries:



Duration: 73 Min.
Quality: FHD
Language:

Subtitles:




5.5