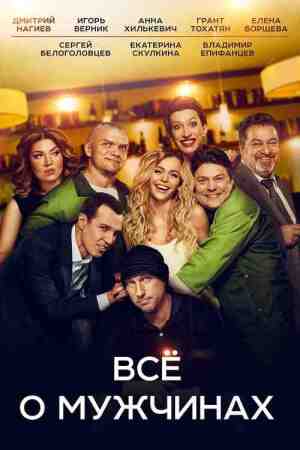 Everything about Men
Everything about Men
When women start talking about men, they are described in the most ingenious way: behind a real man you should feel like masonry; men are attention, concern, security and… money. Men have millions of pluses and millions of minuses. Women like to talk about men, enjoy them or criticize them. By the way, like men about women. It is an eternal attraction and duel between different worlds.
From "openly" to "sharply" it is discussed in the movie "Everything about Men". It is a comedy that opens all the cards about masculine character - from heroism and bravery to curiosity and sentimentality.
Some men who are completely unlike each other find themselves in the most unexpected stories they want to solve in a smoother way. In the lead role is Dmitri Nagiyev, whose character, the life-hardened taxi driver, is the connecting link between all the men in the film's storyline. He listens to the heroes and finds something to advise at the right moment. How do you please a girl twice as young as yourself? How to seduce my wife to go to a swing party? Will it be enough to give her flowers for her wife's favor?
Men are, first and foremost, difficult decisions and real, decisive actions. And for women, this movie will remind you of what men need and why. The first fall comedy - from September 9th. Lithuanian women, men, couples, families.
Genres: Comedy
Actors: Yan Tsapnik, Elena Valyushkina, Stepan Yurpalov, Dmitriy Nagiev, Samvel Muzhikyan, Igor Vernik, Anna Khilkevich, Yuliya Abramova, Sergey Belogolovtsev, Aleksandr Belov, Dmitriy Blazhko, Elena Borshcheva, Czeslaw Golovinets, Maxim Konovalov, Ruslan Kornekov, Inna Sanchay, Stanislav Shirin, Ekaterina Skulkina, Viktor Stepanyan, Artem Suchkov, Hrant Tokhatyan, Dmitry Tsyganov, Vladimir Yepifantsev, Alexandr Zlatopolsky
Directors: Mikhail Zhernevsky
Writers: Leonid Margolin, Alexey Smolyar, Max Oleynikov, Yaroslav Lukashevich, Artyom Efimov, Dmitriy Presnetsov
Countries: Russian Federation
Release: 2016-09-01
N-16
Distribution countries:

Duration: 75 Min.
Quality: FHD
Language:

Subtitles:


4.6